Indianapolis Master En Suite Addition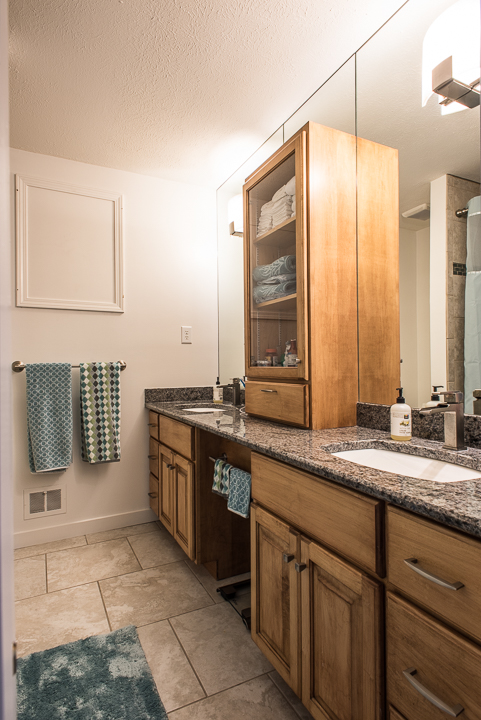 We previously completed two projects at this home. (click here to see previous work). The scope for this project includes three additions: a side addition for the mud porch, a dining room addition, and an addition to accommodate space for a new master bedroom, bathroom, office, laundry and storage room. The third added space addition allowed us to expand the existing garage, widening the garage door opening to 18 feet.
The owners sought a master en suite design to provide functional elegance. We removed the existing master bath in its entirety, making way for the new addition and added space in the master bedroom and bath. The new master bath includes a walk-in shower, soaking tub, and heated tile floor for comfort. The sleek large tile pieces and the cabinetry provide a contemporary theme conforming to the rest of the home. A particularly striking feature of this new bathroom is the decorative elliptic recessed ceiling and the elegant center light fixture. Like the master bathroom, the master bedroom has a tray ceiling with LED tape lights which provide an elegant ambience.
We re-trimmed the entirety of the home's exterior. The design includes dormers with a clear cedar finish, providing a sleek look to the exterior. In the two story addition, we tore out the exterior wall and brought the floor joist over further to take advantage of the new space from the mudroom porch addition (3' x 6' bump out on both floors) in one of the bedrooms for a window seat area.
On the first floor space we removed the brick around the fireplace and installed the artistic steel wall façade around the TV and fireplace. Wood Shapes Unlimited custom built and installed floating shelves connecting to the side of the fireplace. Additional space affords a new office area, complete with custom built sliding glass door panels which seal off the office from the living area. Finally, we completely updated the laundry room, relocating the plumbing and installing new counters to make a more efficient use of the space
Adjoining the kitchen which we remodeled in a previous project is another room addition which serves as a dining room. We constructed another detailed tray ceiling and installed several windows in the new space. We installed LED tape lighting in the tray ceiling. This, along with the natural light through the windows brighten the space significantly.