Noblesville Addition and Whole Home Remodel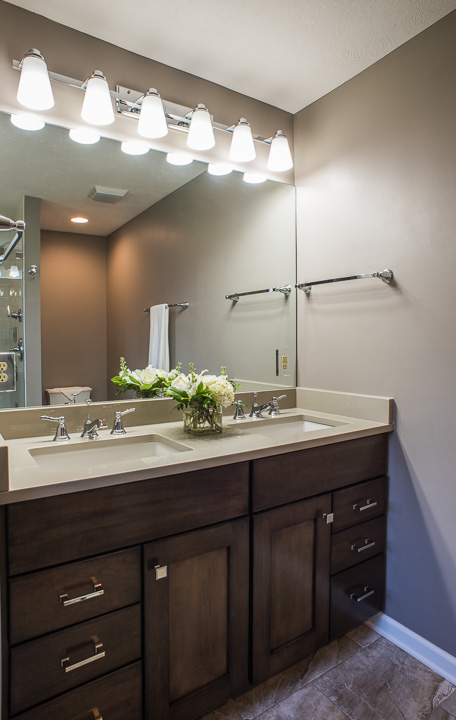 The clients of this home sought to completely update their home. In order to accomplish this, we had to bump out the kitchen and upstairs master bedroom several feet. We tore out a great deal of walls to open up this space and installed several wood beams to carry the load. The entire first floor was under construction during this time.
The additional feet in the kitchen allowed space for us to create the new island which provides a central feature of the kitchen remodel and first floor. As seen in the photos, the kitchen features two different colored granite countertops and two different colors of custom glazed cabinetry, both unique features of this kitchen remodel.
Before the remodel, there were wood beams and wood paneling in the living room. We remodeled this area to provide an updated look while still matching the architectural style of the home and the other renovations.
We also renovated the upstairs. We put new flooring in the second floor hallway and new carpeting on the stairs. The upstairs remodel included a remodel of the master bedroom and bathroom. The bump out provides a few additional feet to make the master bedroom much more spacious.
On the exterior, we poured a new stamped brick perimeter which matches the existing architecture. This feature provides additional square footage while blending seamlessly with the home.
Lastly, we redid the laundry room and created a new mudroom area. Nearly the entire home was renovated and repainted. We completed the entire scope of work described while the clients were living there.